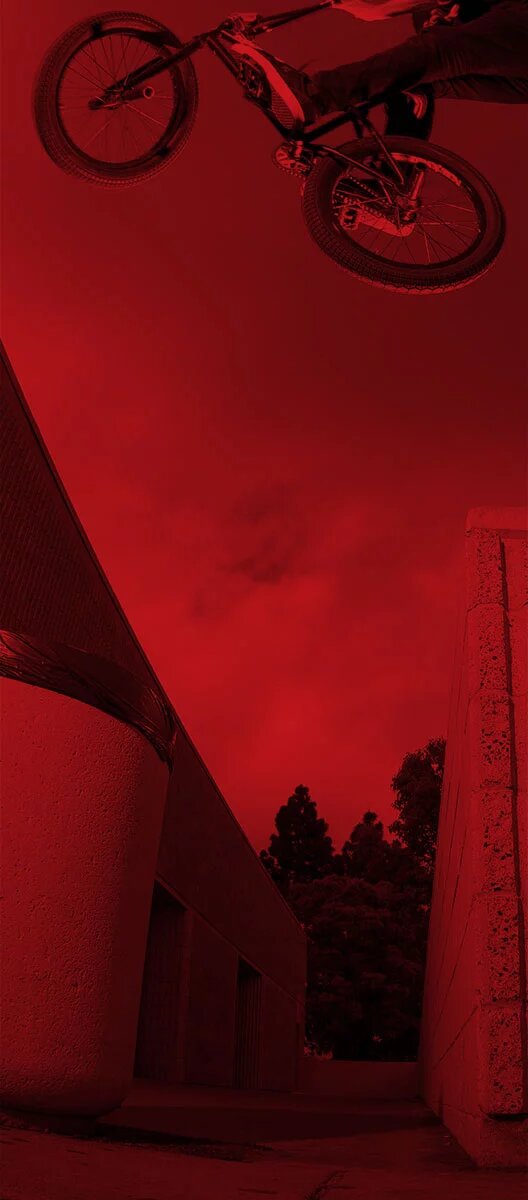 REDLINE WAS BORN
NOVEMBER 1, 1970
Redline was born when two guys with a common interest in welding and motorcycles began making frames and swingarms. With a 6-person staff, they named the company Redline and began producing lightweight, high quality motorcycle frames for flattrack, TT, speedway or motocross
REDLINE INTRODUCES THE SQUAREBACK
NOVEMBER 1, 1974 — NOVEMBER 30, 1974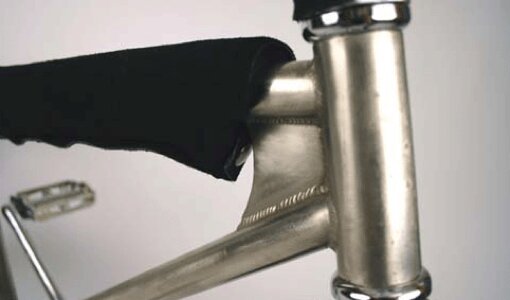 Redline begins the very first production of BMX frames known as the '75 Squareback - due to its angled rear stays. The front end was very short and featured a small wedge gussett. Bike shop owner Rick Twomey and his team give Redline valuable input on the frame design
BYRON FRIDAY RIDES REDLINE'S FIRST PROLINE CREATED
JANUARY 1, 1977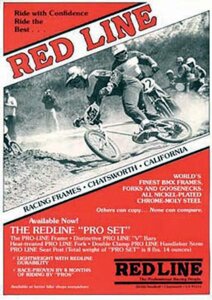 Redline's first Proline is created; utilizing a 5 inch head- tube and thin rear dropouts. Byron Friday races it down Weinart Mountain, one of the gnarliest downhills in BMX history. It survives.
THE CUSTOM REDLINE MOTORHOME
JUNE 1, 1978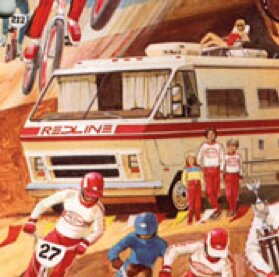 The Redline Team of Stu, Greg, Dain, Ruminer, Clinton and others hit the road in the custom Redline motorhome. If only that motorhome could talk.
REDLINE SUMMER TOUR
JUNE 1, 1980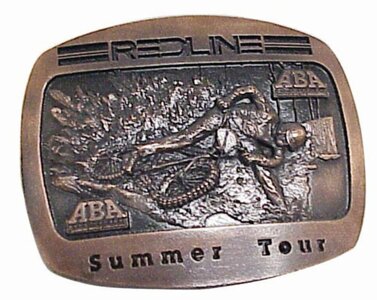 Teaming up with the ABA, Redline brings the BMX World the Redline Summer Tour starting off in Arizona in June and ending up six nationals later in South Carolina come August. The cool sign-of-the-times prize at each race? A Redline belt buckle!
WINNING BEST RIDER AND BEST TEAM OF THE YEAR
JANUARY 1, 1982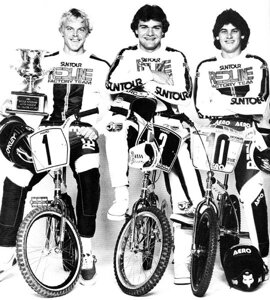 The phone rings. It's BMX ACTION magazine. They inform Redline that they've swept the NORA Cup Awards winning Best Rider (Stu Thomsen) and Best Team of the year. Redline signs-up Greg Grubbs; the fastest BMXer to ever come from Nebraska
REDLINE'S FIRST FREESTYLER, THE RL-20, IS BORN
JANUARY 1, 1983
Redline's first freestyler, the RL-20 is born. Backed by the support of the freestyle superstar on the BMX ACTION trick team, Redline is one of the first legit leaders in the fresh freestyle era. Still argued today does the acronym RL stand for Redline or the rider?
PL-24'S DEBUT
JULY 1, 1983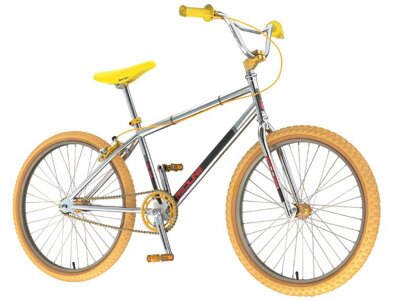 The long awaited PL-24 makes its production debut to the oooh's and ahhhhh's of the BMX media. "It handled more like a 20 inch than a cruiser."
LINN KASTAN ENTERS BMX HALL OF FAME
NOVEMBER 1, 1985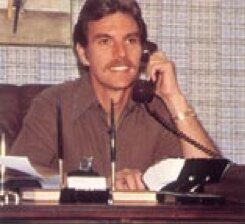 The ABA starts the official BMX Hall of Fame and Redline's founder, Linn Kastan is their first Industry Inductee
STU THOMSEN ENTERS BMX HALL OF FAME
NOVEMBER 1, 1986
Longtime Redline pro Stompin' Stu Thomsen is inducted into the BMX Hall of Fame
GREG HILL ENTERS BMX HALL OF FAME
NOVEMBER 1, 1991
Redlines pro shows up at the Grands aboard an odd-looking custom-made Redline proto-type with funky looking forks. Redline legend Greg Hill is inducted into the BMX Hall of Fame.
REDLINE CELEBRATES ITS 20 YEAR ANNIVERSARY
JANUARY 1, 1992
Redline celebrates its 20 Year Anniversary (a couple o' years early), with a Limited Edition PLATINUM frameset. The 100 of a kind frame features a Browning Hydro-Pneumatic suspension fork system.
REDLINE BIKES WIN TWO NATIONAL CYCLO-CROSS CHAMPIONSHIPS
NOVEMBER 1, 1995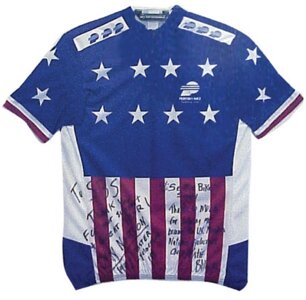 Redline bikes win two National Cyclo-cross Championships in Massachusetts. Ex-Redline personnel dominate the ABAs Hall of Fame inductions - Redline TM Gene Roden early Redline pioneer Bob Hadley and 1980s Redline Pro Jeff Kosmala all find their place in BMX history
JOHN PURSE TAKES HIS REDLINE PROLINE TO THE TOP OF THE WORLD
AUGUST 1, 1997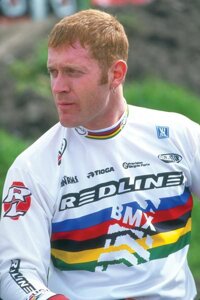 John Purse takes his Redline Proline to the top of the World, winning the UCI World Champs in Canada. SBS celebrates by making a two-of-a-kind white Proline with the World Champ rainbow stripes and matching padset and jersey.
REDLINE'S FIRST MONOCOQUE-TYPE FRAME DESIGN
JULY 1, 1998
Proto type testing begins on Redline's first monocoque-type frame design. The public gets its first sneak peak at a national in Idaho
REDLINE'S AA PRO, A WINNER
NOVEMBER 1, 1998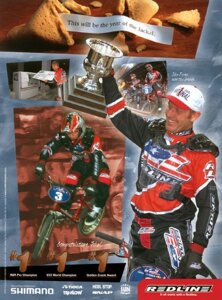 Redline's AA pro winds up the year as the most winningest Pro in the history of BMX scoring an unbelievable 25 wins in one season.
NINTENDO TEAM SPONSOR
MARCH 1, 2000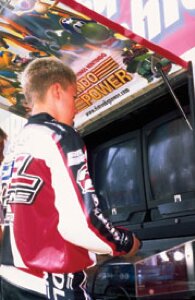 Nintendo comes on board as a Team Sponsor and installs N-64 games in the side of the Factory Squad Support Vehicle. The all new Redline Rig makes its debut in Phoenix
CHUCK HOOPER ENTERS ABA'S BMX HALL OF FAME
NOVEMBER 1, 2000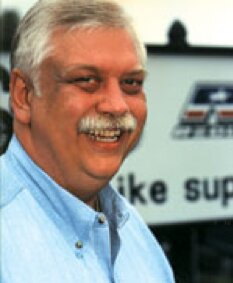 Oklahoma: Grands weekend begins with SBS president Chuck Hooper being inducted into ABA's BMX Hall of Fame. Weekend ends with Kim Hayashi earning the Natl. No.1 Girl Cruiser title
JASON CARNES WINS VET PRO TITLE
DECEMBER 1, 2002
After leading the points chase all year long, Jason Carnes wins the ABA No.1 Vet Pro title
NEW GUINESS BOOK OF RECORDS FOR LONGEST DISTANCE BACKFLIP
JULY 1, 2005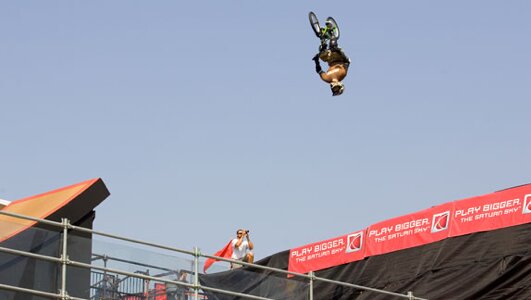 At the 2005 X-Games, "Rooftop" sets a new Guiness Book of Records for doing the longest distance backflip – landing it at 62 feet, 2 inches. If that wasn't enough, Rooftop then climbs back up the super ramp and sets an all-new record for long-distance 360 – at 50 feet, 6 inches.
ALISE POST MAKES HER REDLINE DEBUT IN RENO
JANUARY 1, 2009
Alise Post makes her Redline debut in Reno and after a classic last-turn move in the very last main of the weekend, she is the talk of the BMX internet. On the freestyle side of things, Redline signs on up and comer Brandon Dosch – who replaces Kevin Kirally for 2009.
B DOSCH GOES BIG, WINS DEW TOUR CHAMPIONSHIP
October 17, 2010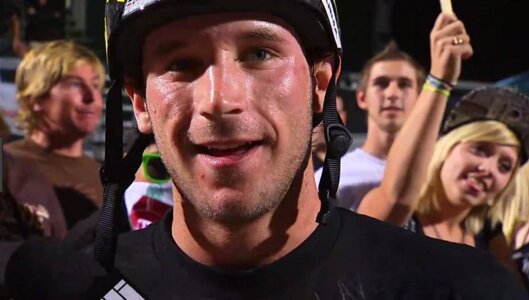 Brandon Dosch's flawless runs on Saturday night propelled him to the number 1 spot at the BMX Dirt Finals. This win also gave him enough points overall to earn his first Dew Championship Cup title of his career. Congratulations Brandon on an amazing night!
SAM WILLOUGHBY WINS UCI SUPERCROSS TITLE
SEPTEMBER 16, 2012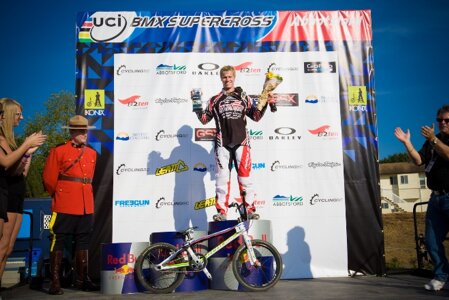 The final stop of the 2012 UCI BMX Supercross World Cup tour was in Abbotsford, Canada. The competition was tough but Redline riders Twan Van Gendt won the Elite Men's, Laura Smulders won the Elite Women's and Sam Willoughby clenched the overall UCI Supercross title
SAM WILLOUGHBY HAS AN INCREDIBLE 2012:
NOVEMBER 22, 2012 — NOVEMBER 25, 2012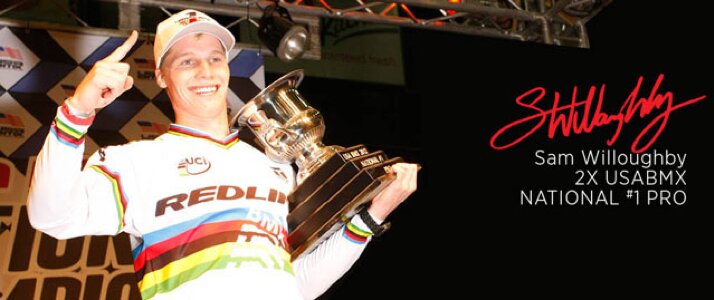 2012 USA BMX No.1 Pro
2012 UCi SuperCup/Supercross overall Champion
2012 Olympic silver medalist
2012 NORA Cup winner
2012 USA BMX Grands winner
ALISE POST WINS AT THE 2012 GRANDS
NOVEMBER 27, 2012
BRANDON DOSCH WINS SILVER AT X GAMES BRAZIL
APRIL 21, 2013
Eight of the best BMX dirt and trail riders were in Foz Do Iguaçu, Brazil for the first stop of the X Games. This was also the first time BMX Dirt has been apart of the X Games since 2006. The competition was tough, but Brandon Dosch stepped it up with a huge corked 720 to grab the silver spot on the podium